This is the most updated application process for Filipinos to acquire a Tourist Visa to Egypt.
The requirement for a tourist visa to Egypt has changed a little with the addition of some vaccines being required but remains simple and straightforward, but you need to go to the embassy 3 times during the process, which is a hassle if you don't live near the Egyptian Embassy in Makati.
In applying for an Egyptian Tourist visa, you DO NOT NEED to pay the Php 1,700 visa fee if you're not approved, but you do need to pay an application fee of 200 upon filing. You DO NOT NEED to book a flight and hotel.
I had a dive trip in 2020 and was granted a visa but because we all know what happened in 2020, my trip was canceled, and the visa expired. So I have to apply all over again like it was the first time.
4 Steps in Applying for Tourist Visa to Egypt
Prepare and submit the requirements at the Egyptian embassy without the passport. Pay the application fee of 200 pesos upon filing (it was free of charge in 2020)
Wait for Visa Approval call (30 days minimum, but got my call in 7 days)
Submit your passport and pay the visa fee of P1700 for a single entry visa, and P4000 for a multiple entry visa. Before it was 1500 for single entry, but I don't know how much was a multiple entry visa.
Pick up the passport with the visa sticker another day.
Required Documents for Egypt Visa Application
Filled up Visa Application Form
Two (2) recent colored photos, 2″x 2″ with white background
Passport with 6 months validity
Bank Certificate, 7 days old
Employment Certificate stating salary or Business Registration, whichever is applicable to you
Copy of Philippine residency/ visa / Immigration ID Card (for Philippine-based foreigners).
International Vaccination Certificate of the Inactivated Polio Vaccine injection (IPV) –The date of vaccination must be at least three (3) weeks prior to your travel plan date
International Vaccination Certificate of the COVID-19 Vaccination (must be fully vaccinated)
Add a cover letter stating the purpose of your trip even if it's not a requirement. I believe explaining my situation expedited the approval of my visa.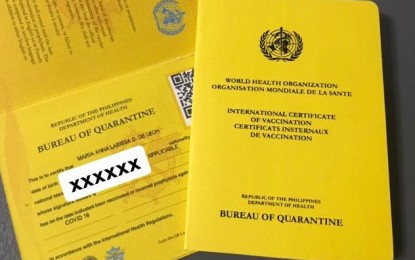 The infamous yellow card or BOQ certification card, for requirements #8 and #9. Where to get it? –>Here
Additional Requirements are listed below, if applicable
11. Letter of Invitation from the Host in Egypt (scanned copy of duly signed letter addressed to the Embassy stating the purpose of invitation and relation to invitee including complete address and contact details of the host in Egypt)
12. Copy of valid passport and Valid Residency / Visa of Host in Egypt
Filing Application at the Embassy
Visa application must be submitted personally to the Embassy during consular working hours from Monday – Wednesday from 9:00 A.M. till 12:00 P.M. except holidays. No appointment is required.
When you arrived at the Egyptian Embassy building, you won't be allowed to go up immediately. They only allow 3 people to go up at a time due to covid protocol I assume. It's not really a busy embassy, but the wait can be long if it's not your lucky day. And there is no sitting area in the lobby.
When you get to the embassy office at the 7F, you will note the 2 PNP and 2 Filipino soldiers stationed at the door. There is one Egyptian reception to whom you need to surrender your phone upon entry.
Ms. Marian, the consular officer, will be the one to check and accept your application, get the payment and issue the invoice, and return the passport when the visa is approved. If you have any questions, she will be the one to reply to your email and also answer the calls.
If you have more questions regarding visa application, please contact the Embassy directly on any of the following means below. Ms. Marian is prompt with replies via email and also friendly over the phone.
Where is Egyptian Embassy in Manila?
Embassy of the Arab Republic of Egypt, Manila
7th Floor G.C. Corporate Plaza
150 Legaspi St., Legaspi Village
Makati City

Tel: 8843-9220 & 8843-9232 
Email: 

[email protected]



Consular Hours:
Monday – Wednesday, except holidays
9:00 AM - 12:00 NN

Filing Fee: Php 200 cash upon filing
Visa Fee: Php 1,700 Cash upon approval
Egypt Tour Itinerary Sample
Egypt in 1 Week

Day 1-2, Cairo: Walking tour of the city with an egyptologist. Tour the pyramids and the sphinx. Explore the Cairo Museum of Egyptian Antiquities.
Day 3-4, Aswan: Camel ride to the Monastery of St. Simeon, Nubian Museum, excursion to Elephantine Island, Abu Simbel – one of the most recognizable symbols of Egypt
Day 5-6, Nile River Cruise: Sail along the nile and stay overnight in a Felucca (traditional Egyptian sailboat. Visit Kom Ombo Temple.
Day 7-8, Luxor: Colossi of Memnon, Luxor Temple, Karnak Temple Complex, Valley of the Kings, go shopping in a local bazaar.