I've been to El Nido years ago when it was only reachable by chartered plane. It was like a secret island as there were hardly tourists there. But since commercial flights directly to El Nido are now available, and that it consistently make the world's best island lists, El Nido is booming and tourists from all over the world are coming to enjoy its splendors.
With developing tourism comes more opportunities for exciting tours and adventures.  Booking hotels in El Nido are much easier these days with wide range of price options. New travel agencies are also operating now, offering specialized tour packages to visitors.
Here are 6 popular things to do while in El Nido, Palawan.
Island Hopping Tours
Island hopping will forever be the main attraction in El Nido. There are so many different islands, lagoons and small hidden beaches that will completely elevate your social media (IG) feed! Let's just say two weeks isn't enough to explore all of El Nido.
Typical tours are divided into 4 classes, from A to D, with tours A and C being by far the most popular since they take tourists to all of the most beautiful locations. You can even combine both tours in a single day. This would mean Amazing Race style tour but you would definitely be able to get great pictures, if this is your goal.
Tour B and D are much more relaxing choice since it'll be taking you to less popular spots. It's best for some chill time.
Another option is taking a private tour using a speedboat, if you can afford that. The obvious benefit is you control your time with a private speedboat.
Check out Palawan Package with El Nido included on this link.
Zip line to Las Cabañas Beach
Las Cabañas is also known as maremegmeg beach, and this is where the zip line is located. To get to the beach, you'll to drive roughly 20 minutes away from El Nido town. Either rent a motorbike or pay 100p for the tricycle ride. Once there, you will climb up the hill, and enjoy the stunning view overlooking the whole area.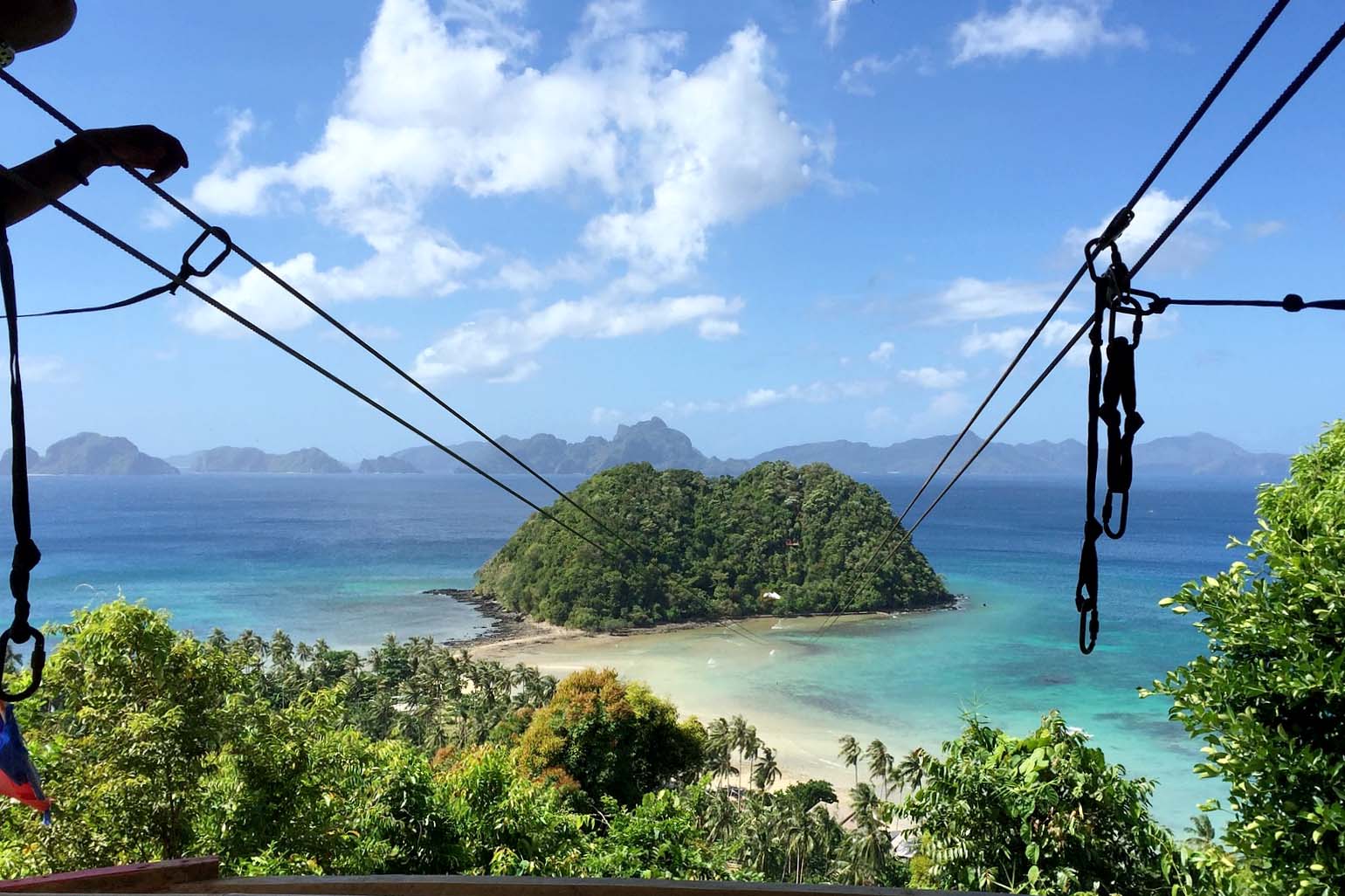 The zip line is 750m long, which means its slightly shorter than the one in Puerto Princesa. The view, however, is much more breathtaking. This is yet another great opportunity to combine a thrilling adventure with a spectacular scenery. Once you are done, take some time to relax at the beach below, which is one of the best El Nido has to offer.
Discover Scuba Diving
Many people come to the Philippines especially for diving, as it's considerd one of the best places to dive at in the world. Even if you are a beginner, the diving scene here is so well developed that you should not have any trouble finding your way. And what better place could there be other than El Nido to finally take the plunge and learn how to dive?
There are countless professional dive clubs scattered all around El Nido town and nearby Corong-Corong. They all offer the basic training which takes a few days, as well as introductory dives or "discover scuba diving". There are over 30 different amazing dive sites, and are all excellent for beginners. Out of these, the most popular ones are near Miniloc island – a protected reef where abundance of fish, mantas, and sharks can be spotted.
Rent a Motorbike
You can rent a motorbike in El Nido and only pay Php400 a day. You'll be able to roam around the island and discover cool little places most people skip. Just start driving and stop anywhere you like, most chances are you'll be all by yourself!
Calitang and Nacpan beaches are a great place to visit. They are both relatively close to town, and shouldn't take more than 30 minutes to reach. These are called the twin beaches, as they are right next to one another, and are considered to be among the best beaches on the island. Another option is to drive further up north to Duli beach, which is about an hour away. This beautiful beach is where you go if you want to distance yourself completely from civilization and have the whole place to yourself.
El Nido Party Boat
This is a fairly new attraction in El Nido, and ! So far everyone who did it came back so excited,  It's basically a custom island hopping tour, with an open bar and free BBQ lunch. For more information, visit the El Nido Party Boat (http://elnidopartyboat.com/)
Nagkalit-kalit waterfalls and Makinit Hot Springs
Beside the gorgeous beaches, you can also do day trip hikes to visit waterfalls and hot springs. The Nakalit-kalit waterfalls are on the way to Nacpan beach, so they can be visited on the same day. It's only a short hike to the falls, and the waters are very cool and refreshing.
If you continue further north from the falls and towards Nacpan beach, you'll also reach the Makinit hot springs. The hot spring unlike many is not for dipping, because the water temperature is too hot. So hot the locals use this to cook eggs. It's not the prettiest destination but I think it's very interesting to see.
Related Article: Top 6 Things to Do in Puerto Princesa Palawan