Indonesia has been one of my favorite countries since my first visit in 2009. I did a 2 week trip that brought me from Jakarta to Bandung to Jogjakarta and finally to Bali. I have since then been back to Bali and added Komodo Island on my list. And I've planned for another trip to dive Raja Ampat with my friends next year.
Indonesia reminds me of the Philippines, a bigger Philippines. They have over 13,000 islands and hundreds of ethnic groups, very rich in natural resources as well as well-preserved culture. The people also have similar features as the Filipinos, and are as friendly and hospitable. It is so easy to feel at home there.
So when I received an invitation from the Indonesian Tourism to be part of the Trip of Wonders campaign, I was very happy to accept. I wanted to see more of Indonesia. Our trip's itinerary is Jogjakarta and Bali. It's a deja-vu! But it's all good for I believe there's always a new way to see the same things. And it's been 7 years since my visit to Jogjakarta. For example, I have not been to the Borobudur Village the last time I was there. And I really wanted to go to Borobudur Temple again.
Borobudur Village Tour
The Borobudur Village tour is a perfect activity if you're waiting to visit Borobudur Temple during sunrise; you're waiting for the sunrise tomorrow, so you are free today. Here are what we did on the first day that we arrived Jogjakarta:
Pendopo Tingal

First we went to Pendopo Tingal where we were treated with a spread of Javanese traditional food and cultural show of Kuda Lumping. Jathilan in Javanese, the dance depict a group of horsemen dancing in trance. They wear colorful costume with a lot of red and black and intense face paint. Their performance is accompanied by traditional music. This reminds me a bit of the Ati-atihan Festival of Kalibo. Also reminds me of the Tarabuco Festival I went to in Sucre, Bolivia.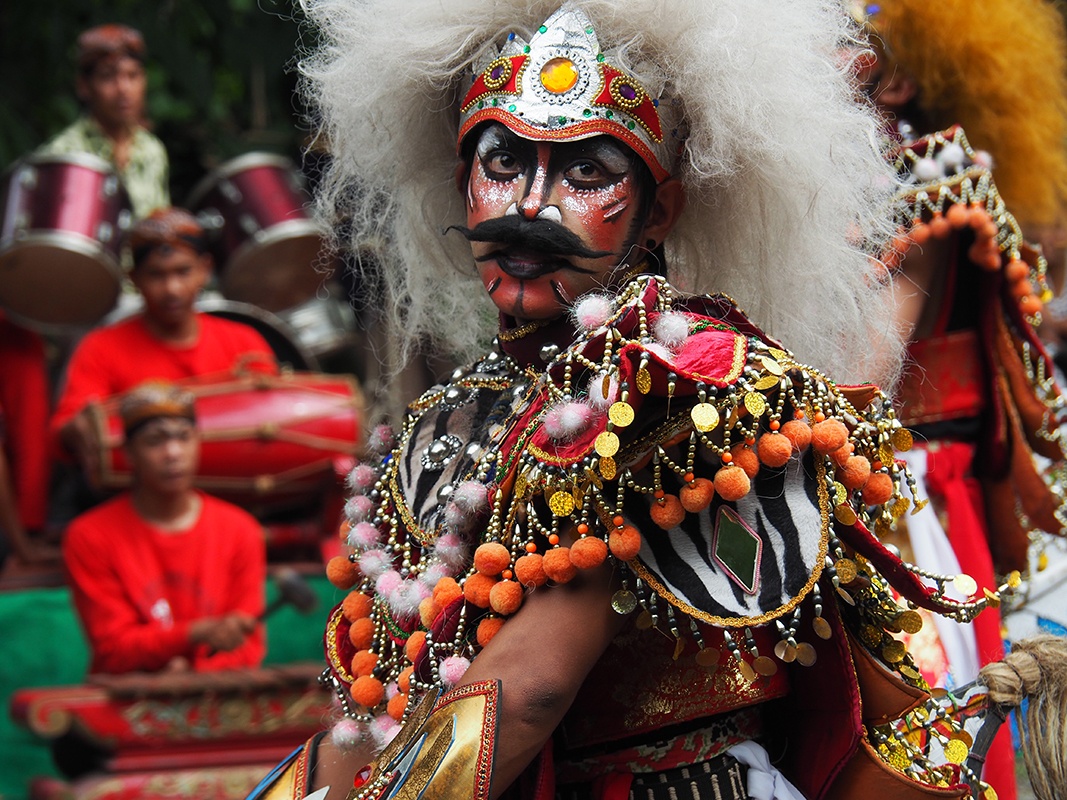 Biking in Borobudur Village

To work out our meal, we were treated to a scenic bike tour around the beautiful village near and around Borobudur. It was an easy 3km ride from Karangrejo Village through Karanganyar Village to finally Warung Kopi Borobudur.
The bike ride was short 3km long but instead of taking 15 minutes, it took us almost an hour. Not because it's rough road, but because this tour includes bloggers and social media influencers,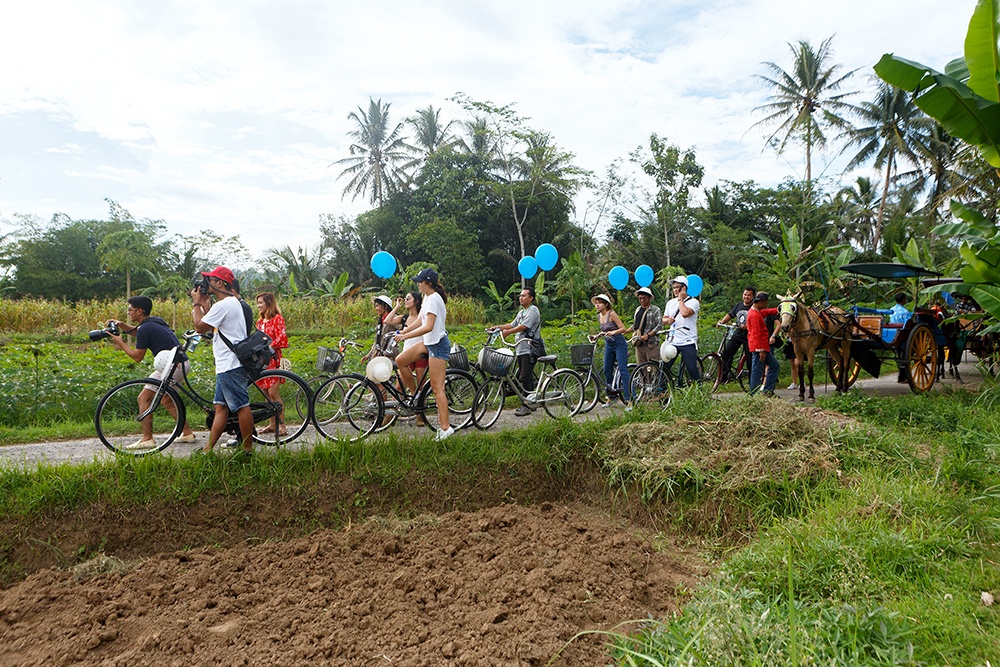 and of course we have to do selfies and groufies
 *bike tour photos courtesy of @LiburanJogja — i can't bike and take photos :p
Warung Kopi Borobudur

When we get to Warung Kopi Borobudur, a huge spread of local snacks await us. All we do on this trip is eating, honestly. The snacks are similar to Filipino kakanin. The super sweet cendol drink is actually the origin of the famous chendol in Penang.
after appreciating the food culture, we got to experience learning the crafts of the local people's livelihood. There are 2 ladies who will teach you clay pottery and the making of batik. This is so interesting for me, especially the making of batik because I never knew how it was made.
Here are more photos of the day in the Borobudur Village.
Pottery Making
This is the first time I tried this pottery in real life. I mean, I have this app in iphone called pottery that lets you design beautiful potteries. Haha. It's so much harder in real life. I have smashed the raw clay so many times so the lady had to guide my hand in moulding this clay ashtray. They then dry it in fire and gave it to us before we left Indonesia.
Batik Making
Batik is a popular art around Southeast Asia. We also have it in the southern Philippines. But the most famous is from Indonesia. The art actually originated from Java. The technique is designing the fabric by applying wax that resists dye. Then the fabric is dyed, the wax is washed off with hot water, and the negative space becomes the design.  It is also not very easy but fun to try it out. I designed a flower batik with Wanderlass on it, except it reads wanderless he he.
If this is something you want to do before catching the sun rise in Borobudur the next day, you can contact Liburan Jogja and they can organize this for you.
Liburan Jogja